Powder Coating
Powder coating is one of the basic services we provide. In the process, all metal elements are coated with special powder paints. We use the electrostatic or electrokinetic spraying method that makes it possible to create an extremely even coating without the substrate showing through.
What is powder coating?
Metal elements are coated with varnish. Paint particles are applied using the spraying method and then heated up. As a result, the applied layer melts and polymerises. This makes the workpiece resistant to corrosion, high temperature and mechanical damage.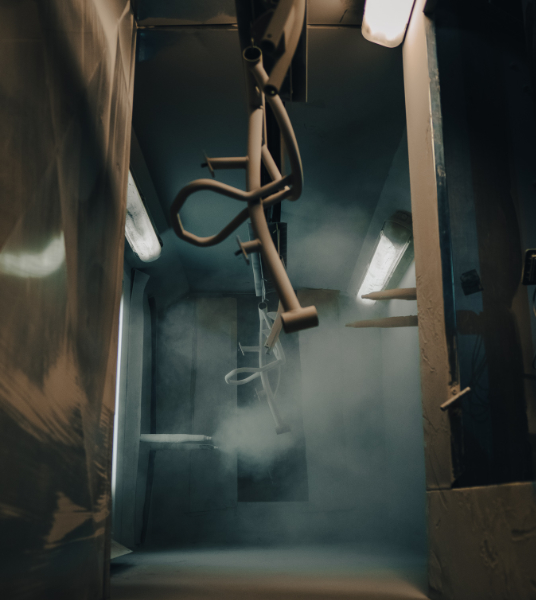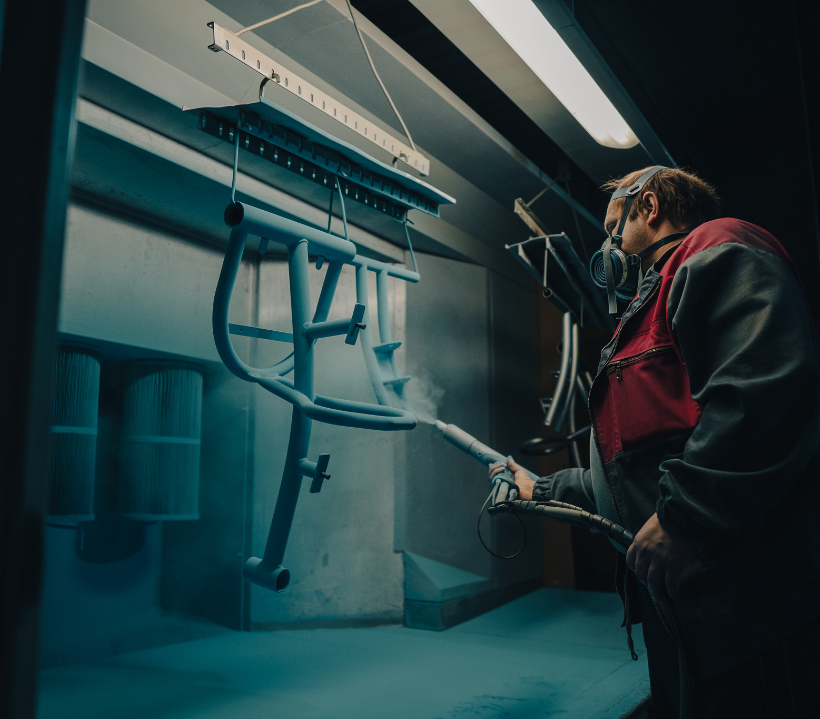 Powder Paint Shop in Bydgoszcz – PlastStol
Plast Stol has a modern powder paint shop located near Złotów. This means that we are available for all customers in the region. We serve clients from Bydgoszcz, Szczecinek, Chojnice, and Piła, but also from all over Poland. It is our ambition to globalise our activities. You're welcome to visit us!
Modern powder coating at PlastStol
You are probably thinking about why you should trust the PlastStol specialists and entrust us with the powder coating of your workpieces or entire structures. As a company with an established position in the market, we have already served numerous customers from Piła or Bydgoszcz. We can be proud of an even greater range of activities and recognition in the whole country. Złotów, Chojnice and many other towns and cities – this is where the entrepreneurs who want to cooperate with a good, modern and trustworthy powder paint shop come to us. We have everything you need to undertake metalworking. We will be happy to help you with this!
Powder paint shop for demanding customers in Bydgoszcz
Demanding customers have high expectations about deadlines and work quality. In our powder paint shop, they go right under the care of a dedicated supervisor who will be involved in their project and watch over its progress.
The greatest advantages of working with PlastStol in the field of powder coating include:
access to an extended colour range,
orders executed with utmost care and precision,
supervision by qualified employees,
attractive prices, transparent rules of cooperation,
wide scope of activity for the whole of Poland.
We can be proud of many successful projects and recommendations from our customers. This is the best proof that cooperation with PlastStol powder paint shop will bring you many benefits.
Why is it worth choosing powder coating?
Currently, powder coating is the most popular method for changing the look and improving the proprieties of steel elements. It is done under strictly controlled conditions, which guarantees high repeatability of workpieces, as well as their high quality and also the good speed of work. The paint applied in this way adheres well to the substrate as long as it is properly prepared and cleaned. We provide a complex service at each stage of the work.
Wide range of RAL colours
Powder coating makes the workpieces exceptionally resistant and they also look nice. You have the main RAL colours to choose from - black, silver, grey, graphite and white.
Powder coating for you
Plast Stol specialists will carry out powder coating for you – accurately, at a good price and always on time. Get to know all the advantages of working with us.
Professional coating of details
The workpieces we receive are powder-coated by our qualified employees. Trust their experience!
Szukasz fachowców z okolic Szczecinka i Piły?
Jesteśmy producentem mebli metalowych, a także zajmujemy się obróbką metali i produkcję elementów konstrukcyjnych z metalu. Chcesz, abyśmy wycenili Twój projekt? Masz pytania odnośnie do oferty? Działamy w całej Polsce.
contact us
Obróbka metali